Let us help your company meet OSHA and ANSI requirements for training & certification.
Why TrainMOR™?
Mobile. Memorable. Measurable.
TrainMOR's leading-edge training programs are mobile. The online training courses can be taken via smart phone, tablet and desktop ensuring that your employees can engage whenever and wherever is most convenient.
TrainMOR's training programs are engaging and memorable which makes them more effective. Keeping employees engaged and active with the training content vastly improves learning outcomes. Presented in easy-to-follow segments consisting of classroom lecture and instructional videos, TrainMOR's Powered Industrial Equipment Operator Training is an invaluable resource for employers, managers, and supervisors.
The impact of TrainMOR training is measurable. According to OSHA, 70% of workplace accidents can be avoided with proper training and safety procedures. Our goal is to help ensure the safety of your operators, the people around them as well as the powered industrial equipment they operate.
We will teach your drivers the safest techniques in responsible equipment operation as well as awareness of potential dangers at the worksite.
Trainers with Real
World Experience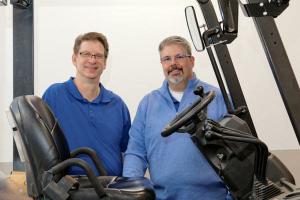 TrainMOR trainers Russ Niedzwiecki and Scott Ahner have been providing powered industrial truck operator training for over 30 years combined. But, more importantly, before they started TrainMOR, they both had real world experience as forklift and aerial lift operators. Scott also brings his experience as a distribution and manufacturing operations manager. In other words, they have been where you are and can help from both unique perspectives of equipment operator and manager.
Don't Become A Statistic.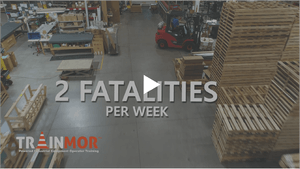 Proper training is the foundation for safety. Nearly 100,000 workers are injured or killed per year due to improper forklift training or carelessness on the job.
Don't become a statistic.