Forklift Operator Training & Certification Solutions
TrainMOR™ is an industry-leading training provider offering a variety of OSHA Compliant Forklift Training solutions to companies throughout the United States. Our mobile, memorable and measurable training and certification programs are effective in improving operator safety and reducing accidents.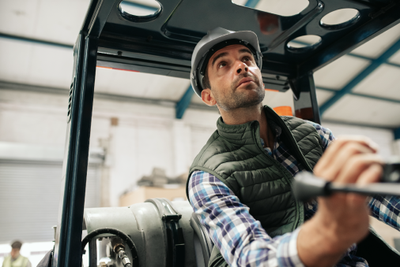 Online Forklift Operator Training
Your employee can complete their training online wherever, whenever via mobile, tablet or desktop PC. Remember, after your employee successfully completes the online training course, you will need to perform the hands-on assessment of your employee(s) using your equipment on the shop floor prior to issuing permits.
Live Classroom Forklift Training (hands on, on site)
This 3 hour live classroom course covers all technical safety aspects while incorporating fun and encouraging discussion with all attendees. Then we move onsite where hands-on trainers spend an hour with up to 10 students at your site, with your equipment, with intense focus on the proper operation of the specific types of powered industrial equipment used in your business.
Forklift Train-the-Trainer (live or online)
These courses provide your company trainer with expertise on creating and administering a forklift training program of your own, giving you the tools you need to pass valuable forklift and warehouse safety information on to your team.
Individuals Seeking Certification
PLEASE NOTE: We do not offer training for individuals seeking forklift operator certification. We train through employers only.
If you are an individual seeking certification on your own, click to learn what steps to take to get your operator permit.