TrainMOR™ Live Forklift Training
Classroom With On-Site Hands-On Forklift Operator Training
TrainMOR™ Live Forklift Operator Training provides classroom and hands-on training in the safe handing of forklifts and other industrial equipment.
Your operators will gain proven competency in classroom and hands-on training following OSHA Regulation 29, CFR 1910.178, Powered Industrial Truck Operator Training.
Workbooks, classroom discussions, testing, certification and wallet cards are all provided through TrainMOR and taught at your company location or ours.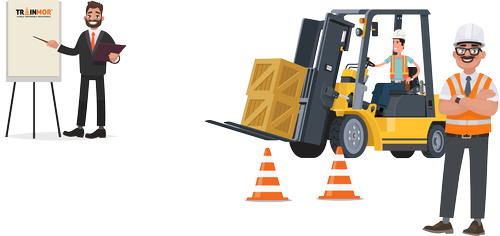 The 3 hour live classroom course covers all technical safety aspects while incorporating fun and encouraging discussion with all attendees. Then we move onsite where hands-on trainers spend an hour with up to 10 students at your site, with your equipment, with intense focus on the proper operation of the specific types of powered industrial equipment used in your business.
What your company will receive
Upon successful completion your company will receive the following for each participant:
Completion Certificate
Wallet Card
Original Training Roster
Original Student Paper Test