Effective Ways to Train Operators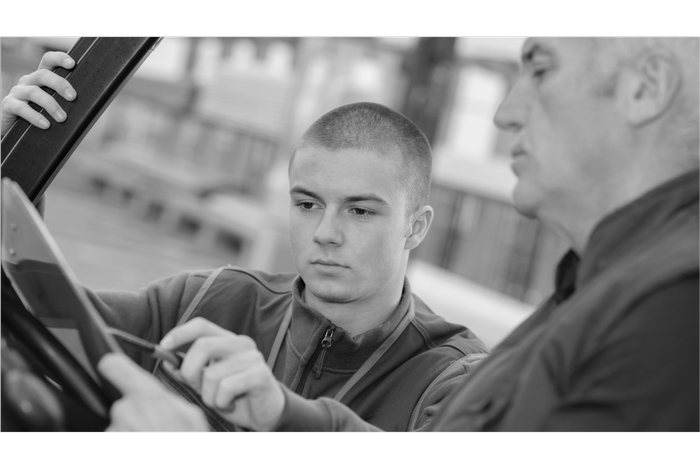 Operations that run smoothly, and with few to zero forklift related injuries, are built as the result of effective operator training. But what exactly makes a forklift operator training program effective? And how does that align with OSHA's requirements?
OSHA states that: "Training shall consist of a combination of formal instruction (e.g., lecture, discussion, interactive computer learning, video tape, written material), practical training (demonstrations performed by the trainer and practical exercises performed by the trainee), and evaluation of the operator's performance in the workplace. [29 CFR 1910.178(l)(2)(ii)]".
This mix of formal and practical instruction and onsite evaluation make a training program OSHA compliant and thorough. However, beyond just having those components, what makes an operator training program actually effective? How do we make sure training helps to prevent accidents and works to keep your team and your business safe during day-to-day operations?
Make It Memorable
Training is only as useful as what your operators can remember and apply. By far, the most successful learning takes place in an interactive, live classroom setting where qualified instructors encourage active participation. Experienced, qualified instructors can make what could be a laborious list of topics, relevant and meaningful to participants.
Make It Mobile
Formal training, however, cannot always happen in a live classroom. Being able to utilize online courses is imperative for many companies. However, quality is still a consideration—video, content, supporting materials, and instructor support are all important components when considering utilizing an online training platform. Even though the instructor is not there in front of the trainee, they should still feel like they are able to reach out and ask questions as needed. Find a supportive mobile training platform that allows for participants to interact with instructors and seek guidance when needed.
Make It Matter
Practical training followed by an evaluation brings the formal, classroom learning right down where it matters most—in your workplace, on your equipment. This kind of training is not only required by OSHA for initial certification, but in addition, your continuing training curriculum would be incomplete per OSHA guidelines without on-site, specific equipment training and evaluation. Without having an in-person training component, it is nearly impossible to see if your employees are picking up and utilizing the newly trained material. By having a formal evaluation on your own equipment, students are tested and required to use their new skills in action, prior to entering back into their usual day to day.
The Reality of Training Programs
The reality is that there are a lot of forklift training programs out there—however, most of what you will find are only partial online programs that do not genuinely prepare operators for real world situations. With a training program that does not teach using real world simulations, how can you be sure that your operators will know how to react when faced with various operating conditions?
Now, bring in TrainMOR.
TrainMOR has the training expertise to bring all of these ideas together along with the concept design of your particular lift trucks, making for more successful and safer operators in real world situations. This creates memorable, long-lasting, easily applied training that increases operator safety and overall, minimizes your risk. Some of the key, real world elements that the TrainMOR curriculum focuses on are:
Use operator restraint (seat belt)
Keep forks only high enough to clear the floor or road surface
When forward vision is blocked, travel in reverse
Sound your horn at intersections, blind spots, or other dangerous locations
Always keep body parts inside the running lines of the lift truck.
Make sure the lift truck is ALWAYS in safe working condition.
Otherwise, tag the truck out of service for repair.
Operate your lift truck at a controlled speed, taking into consideration, uneven wet surfaces, potholes and overhead obstructions.
The most effective way to train operators? Make it memorable, make it mobile, and make it matter. Training is only as useful as what your operators remember, are able to access, and can apply to their day to day.
© https://www.trainmor.com update