Top Safety Devices for Your Forklift
May 01 2021 | 3 Min. Read
Safety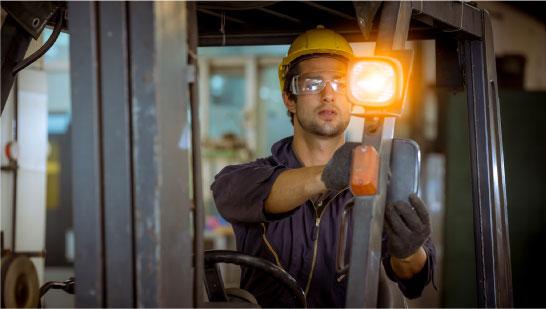 Some accessories that outfit your forklift truck for safety.
"Safety first!" It's a saying you hear so often it's almost trite. But when it comes to forklifts, safety is serious business. OSHA estimates over 100,000 forklift accidents each year with both pedestrians and operators at risk of serious injury and death. Our effective operator training programs are the first step toward minimizing those risks, but there are also some forklift safety accessories to consider.
Standard Forklift Safety Devices
Each manufacturer and forklift model will have an array of safety features, some standard and some optional. Here are safety devices that should be standard on every lift truck:
Headlights
A forklift needs headlights to navigate dimly lit areas and alert oncoming traffic, whether other vehicles or pedestrians traveling in the vicinity.
Horn
A forklift's horn is the main auditory advance warning available on standard lifts. Encourage your operators to use the horn.
Overhead Guard
All forklift trucks should provide an Overhead Guard to protect the operator from falling objects. See https://www.osha.gov/SLTC/etools/pit/forklift/basicparts/overheadguard.html#guard
Forklift Safety Accessories
Here are some of the best safety accessories we recommend to all forklift owners and operators:
Pedestrian Warning Lights
There are a variety of warning lights you can add to a forklift.  They're all designed to make the truck more visible. Your specific application will dictate what's appropriate.
Curtain lights warn people away from the forklift's perimeter
Forward movement indicator lights highlight an approaching forklift's path
Operator lights call additional attention to the forklift
Strobe Lights are a highly visible warning to pedestrians
LED Headlights
When the standard headlights don't offer enough visibility, LED lights provide additional brightness and keep operators and surrounding materials, racking and pedestrians safe!
Back-up Indicator
A back-up indicator provides an audible warning that a forklift is operating in reverse.
Rearview Mirror and/or Back-Up Camera
A rearview mirror and/or back-up camera lets the operator see what's behind them during a back-up maneuver.
Back-Up Handle
A Back-Up Handle gives your operator an inside-the-operator compartment handhold to grasp when turning to look behind while backing up. See our video on why keeping operator hands in the cage of a forklift is critical!
Forklift Seat w/Seatbelt
A quality forklift seat with a high visibility safety belt can maximize operator comfort, productivity and safety. A seatbelt keeps the operator safely in the seat—especially in an accident or collision. Keeping the operator safely within the protective operator compartment is the #1 safety recommendation in a tip over accident.
 Keeping operators and pedestrians safe is critical. That's why safety is at the heart of what we do. Consider these safety devices and remember TrainMOR for forklift operator training.  Comprehensive operator training is one of the best safety investments you can make for your business and your team.
We offer Mobile, Memorable, and Measurable training for powered industrial equipment operators that emphasizes safe operation. Take advantage of our Live Classroom, Online courses and Train-the-Trainer options!

Coming Soon! National Forklift Safety Day
Industrial Truck Association (ITA) will hold its 7th Annual National Forklift Safety Day this June 8th. The ITA is the leading organization of industrial truck manufacturers and component and accessories suppliers in the United States, Canada and Mexico. You can get the latest information on National Forklift Safety Day 2021 activities right here as they are posted!
© https://www.trainmor.com update