Safe Winter Operation for Forklifts and MEWPs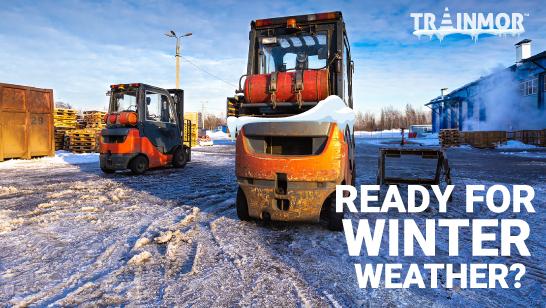 This blog post will summarize the most important things you can do to protect operators and equipment and maintain safety during winter. 
As the days get shorter and temperatures get colder it's time to plan for the safe winter operation of vital material handling equipment like forklifts and MEWPs (Mobile Elevated Work Platforms). Not every material handling operation deals with outdoor operation but those that do are well aware of the extra challenges cold temperatures, ice and snow bring.
This blog post will summarize the most important things you can do to protect operators and equipment and maintain safety during winter.
The impact of winter
Cold temperatures, snow, ice, and winds affect the operation of forklifts and MEWPs that must work outdoors.
Cold temperatures make rubber seals and tires brittle, thicken fuel, oil and other fluids, and sap battery life.
Falling snow and wind can hamper visibility.
Ice and snow create slippery surfaces.
High winds can unbalance or even overturn equipment.
Shorter days mean more dark operating hours.
Consider your operators
MAKE TRAINING A PRIORITY
You know that OSHA requires forklift and MEWP operator training and regular retraining. Before winter weather hits, give your operators a refresher on winter weather procedures and precautions. Pre- and post-operation checks will be different since cold weather puts additional stress on tires, batteries, hydraulics and more.
ENCOURAGE APPROPRIATE DRESS
Your operators need to dress for the weather.  That can mean parkas, hats, face coverings, gloves, insulated coveralls, boots, and rain gear. Be aware of weather conditions and forecasts so you can ensure your operators are prepared to stand up to whatever the climate dishes out.
Create a safe environment
KEEP ROUTES PASSABLE
Your outdoor operating environment needs to be maintained for safe, efficient movement. Pathways need to be plowed and surfaces treated (with sand and chemicals) for good traction.
LET THERE BE LIGHT
Winter days mean fewer daylight hours so it's important that there's adequate light in outdoor environments. Make sure outdoor floodlights are working and that vehicle headlights are functioning.
Focus on equipment
BE PREPARED -- WITH PREVENTIVE MAINTENANCE
Winter comes every year, so be ready.  We recommend you winterize your forklifts and MEWPS as needed. Depending on your climate and equipment, you may need to be prepared with special  tires or chains, lower viscosity oils, and antifreeze.
SLOW AND STEADY IS SAFER
Speed can be dangerous indoors but it's an even greater safety hazard outdoors in winter.  Even equipment that's well-suited to outside use can run into trouble when icy, snowy and/or windy conditions are involved.  Encourage your operators to take it slow to avoid accidents.
MANEUVER SAFELY
Since surfaces will be colder, slicker, and more dangerous, you need to prepare your equipment for safe maneuvering. Train operators to:
Use tire chains or studs when necessary
Be cautious when turning corners, driving near doorways as they are often icier, and driving on slopes
Slow down earlier when coming to a stop
Be on the lookout for ice, snow, or mud on forks and loads since it can lead to shifting and slipping.
VISIBILITY IS KEY
During the winter, operators need to be concerned with their visibility levels. In order to be prepared for conditions with lower visibility, ensure that your equipment has working lights and wipers. Also make sure operators remove any debris, ice, or mud from windshields before operating the equipment.
AND KEEP THESE THINGS IN MIND
Let your hydraulic system warm up before starting off
Use engine block heaters and coolant preheaters, if needed.
Use batteries that are designed to work or be charged in cold conditions. Remember, cold temperatures can severely shorten battery life.
MEWP considerations
All the advice listed above can be applied to forklifts and MEWPs. However, there's one weather factor that affects MEWPs more seriously than forklifts and that's wind. Strong winds can unbalance and topple MEWPs, so if winds are strong, avoid using your MEWP.
Trust TrainMOR to train your operators
Forklift and MEWP operators need to be trained on a variety of operational and safety-related topics, including winter operation. In fact, training is mandated by OSHA. 
When it comes to training operators on forklift operation and safety, rely on TrainMOR. Contact us for information on our Mobile, Memorable, and Measurable training courses—available online, in classroom and on-site.
© https://www.trainmor.com update