Is forklift operator a smart career move for you?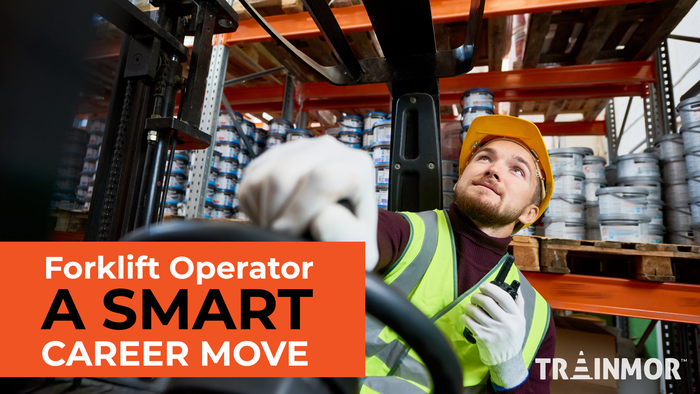 Is forklift operator a smart career move for you?
Are you looking for a career in an industry that requires mental agility driving and operating industrial equipment? Did you know that starting a career as a forklift operator offers pathways for advancement into warehouse and manufacturing management roles? And, right now, forklift operators are in high demand. If you have the skills listed below, this could be the career for you.
Forklift operators need to have a high school diploma or GED and excel at:
Communication with team members, other workers, and even customers to maintain safety
Patience and care to make sure loads are secure and balanced
Attention to detail to verify you're picking the correct item
Ability to handle the pressure of a fast-paced work environment
Organizational ability to stay on time
Training is a must
Forklift operators are skilled workers who must be trained and certified according to OSHA standards. But training is provided by your employer at no cost to you.
OSHA requirement
OSHA states that: "Training shall consist of a combination of formal instruction (e.g., lecture, discussion, interactive computer learning, videotape, written material), practical training (demonstrations performed by the trainer and practical exercises performed by the trainee), and evaluation of the operator's performance in the workplace. [29 CFR 1910.178(l)(2)(ii)]
This can be presented online, in a classroom, on videotape, or in written materials. It should cover basic knowledge of safety issues and best practices for daily operation of forklifts. A certificate of completion is provided when this training component has been completed successfully.
In-person, equipment-specific training
In-person forklift and MEWP training covers real-life applications and instruction for operating the specific equipment models used in the work environment. Since operators must be trained on the equipment that they'll use and, in the applications that are specific to that workplace, in-person training may include a number of pieces of equipment used in different areas.
This training is crucial since there is such a wide variety of forklift types. Here are a few:
3-wheel and 4-wheel electric
Internal combustion cushion tire
Internal combustion pneumatic tire
Rough terrain
Stand-Up counterbalance
VNA (Very Narrow Aisle)
Pantograph reach trucks
Moving mast reach trucks
Walkie reach trucks
In addition, forklifts are used in a range of applications. For example:
Indoor – Warehouses & Distribution Centers
Indoor - Manufacturing
Indoor - Shipping and Delivery
Outdoor - Farm/Agriculture
Outdoor - Construction
Outdoor - Lumber Yards / Sawmills
Outdoor - Dockyards
Indoor/Outdoor - Recycling Plants
Anyone who operates forklifts must be trained and certified for both the equipment type and the actual use in the work environment where that machine will be used. If jobs change, workers need to be recertified on the new equipment and how it's used.
Beware of false training claims
If forklift operator sounds like the career path for you, great! But beware of training companies that make misleading statements about their forklift certification following you from job to job or even machine to machine. This is just not true. Per OSHA, training must be specific to the site and equipment type.
There's good news, though. Forklift operator experience does follow you from job to job and for the rest of your career This is especially valuable if you can show a safe operator history.
Trust TrainMOR for operator training
When it comes to training operators on forklift and MEWP operation and safety, rely on TrainMOR. Contact us for information on our Mobile, Memorable, and Measurable training courses—available online, in classroom and on-site. Our training is top-notch, and we'll never mislead you
© https://www.trainmor.com update