Do forklift operator "licenses" exist?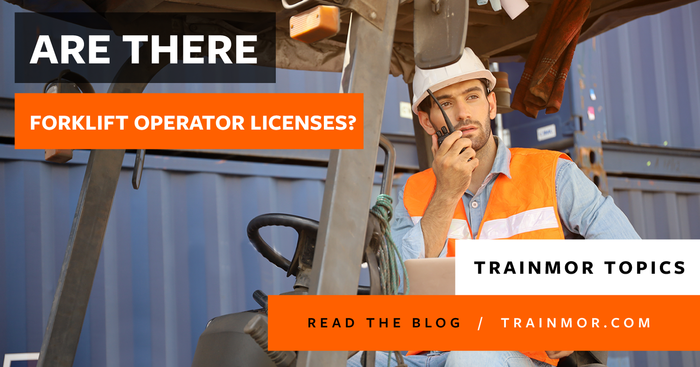 Ever wonder why there aren't forklift operator licenses? After all, truck drivers need a Commercial Driver's License (CDL). Why don't forklift operators need to be licensed? They operate big, heavy, potentially dangerous equipment.
What is the difference between a license and certification? Here's a few distinctions:
1. Unlike truck driver licensing, there are national standards for forklift operator certification (as opposed to state standards).
2. Forklift certification is not available to individuals. Rather, the employer is responsible.
3. The operator is not licensed to drive any forklift, anywhere. Rather he/she is certified to operate a specific forklift model in a specific workplace.
Forklift operator certification
The federal Occupational Safety and Health Administration (OSHA) has set the standards for forklift operator training [1] and certification. According to OSHA, forklift operator training must have two parts: classroom instruction and hands-on training.
Part One: Classroom—in person or online
The trainee learns about the controls of a forklift, capacities of the equipment and attachments. This information may be delivered by a qualified instructor online or in person, through videos, presentations, and discussion. The classroom portion of the training includes vital information. There are serious consequences for not following the rules: OSHA fines, lawsuits, product/property damage, as well as serious injury to or death of the operator or persons near the forklift.
At the end of the session, there's a written test. Those who pass get a certificate and can then move on to the next part.
Part Two: Hands-On
This is the "practical" training and includes an in-person evaluation by a trained instructor. The hand-on training involves operating the forklift in the actual working environment and usually includes:
Doing a pre-shift inspection
Operating, parking, and powering down the forklift.
Lifting and lowering loads
Trainees must complete an assessment that may include tasks like moving a load and maneuvering the lift truck around obstacles. Once an employee passes this assessment, they'll receive their forklift operator certification (plus documentation for their employer).
Recertification
Certification is valid for three years unless the operator's involved in an incident. OSHA requires recertification every three years.
TrainMOR delivers top-quality forklift operator training
TrainMOR brings you top-quality forklift operator training. We offer online and in-person classroom training, hands-on training, and train-the-trainer options.
Contact us for information on our Mobile, Memorable, and Measurable training courses—available online, in classroom and on-site.
---
https://www.osha.gov/etools/powered-industrial-trucks/training
© https://www.trainmor.com update