Are your forklifts ready for Christmas?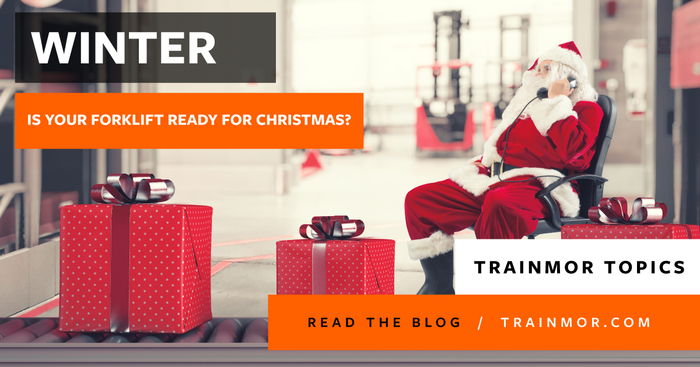 No. We're not asking if your forklifts are prepared with festive lights and decorations. What we're asking is are your trucks ready for the busy-ness of the holiday shopping season?
Economists are arguing over how big this year's holiday shopping season will be, but you can be sure there'll be a spike. Material handling equipment, like forklifts and pallet trucks, as well as their operators, will be essential to keeping up with increased demand.
Here's what we recommend for keeping up with the seasonal rush while maintaining safety and guarding against costly workplace accidents.
Have the equipment you need on hand
Many materials handling equipment dealers report an increase in their rental equipment business during the holiday season. Equipment rentals help warehouses manage increased, short-term demand. We recommend you think ahead and arrange for rental equipment and the necessary operator training early – before the rush.
Make sure it's all in top-notch shape
Consider your fleet of material handling equipment. Do you need to arrange for servicing and maintenance before the rush? Preventive maintenance guards against potential breakdowns that mean lost time, and it reduces the incidence of costly accidents.
Get your operators ready
Here's another opportunity to do some planning. Review your operators' training and certification histories. Then invest in refresher and recertification courses as needed. You may find there are some operators who haven't had to use the equipment for a while. Getting those operators up to speed means you'll be better able to handle a busy holiday workload. Plus, keeping your workers' skills sharp can reduce accidents and downtime.
Get equipment ready for winter weather
If your material handling equipment needs to operate outdoors, make sure your forklifts and other equipment are cold-weather-ready. That usually means having the right kind of tires to handle slippery surfaces, a tune-up, and a working heater in the operator compartment.
Use these tips to keep your warehouse operating safely and efficiently through the winter season.
Trust TrainMOR for forklift operator training
TrainMOR brings you top-quality forklift operator training for permanent and seasonal staff. We offer online and in-person classroom training, hands-on training, and train-the-trainer options.
Contact us for information on our Mobile, Memorable, and Measurable training courses — available online, in classroom and on-site.
© https://www.trainmor.com update