What are the most common, serious forklift accidents?
May 01 2022 | 5 Min. Read
Safety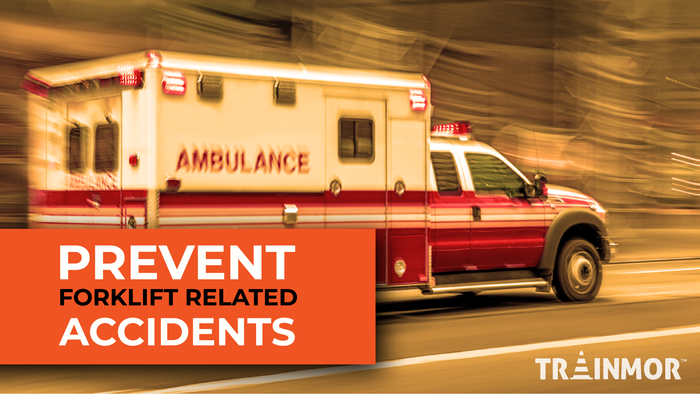 What are the most common, serious forklift accidents and how can you help prevent them? OSHA estimates that more than 85 people are killed in forklift-related incidents, around 34,900 seriously injured and another 61,800 suffer non-serious injuries.
Unfortunately, those numbers have been increasing year after year. In 2021 in Michigan alone, there were 40 reported workplace fatalities investigated by MIOSHA and 74 investigated in 2020. Most recently, as reported in MLIVE, "a steel worker in Dundee, MI was killed in a forklift accident marking the first workplace fatality in Michigan for 2022.
The Michigan Occupational Safety and Health Administration, MIOSHA, issued a notice Friday, Jan. 14 announcing it is investigating a workplace fatality that occurred Jan. 11 in Dundee south of Milan in Monroe County.
The steel worker, a 29-year-old man, was operating an extendable boom forklift to pick up pre-insulated metal panels when he leaned through the cab. The man was then crushed by the lift boom and suffered fatal injuries, officials said.
MIOSHA officials stated the fatality is still under investigation and declined to release the name of the man or the place of business."
The National Traumatic Occupational Fatalities (NTOF) Surveillance System identified 1,021 workers who died from injuries suffered in forklift-related incidents from 1980 to 1994. The most common types of fatal forklift accidents were:
Common Fatal Forklift Accidents

| Type of Incident | % Victims |
| --- | --- |
| Forklift tip overs | 22 |
| Pedestrian struck by forklift | 20 |
| Worker crushed by forklift | 16 |
| Fall from forklift | 9 |
Forklift accident prevention
Violation: Hitting, running over, or crushing a pedestrian
About 20% of forklift accidents involve a pedestrian, and 36% of forklift-related deaths are workers other than operators. Pedestrians are hit or run over by forklifts. Also, workers who may assume it's safe to stand beside a forklift are in danger of being crushed should the truck tip over.
Prevention:
Make sure all forklift operators are trained and regularly recertified on the equipment they use
Train all workers to respect forklifts
Post warning signs and apply floor tape to designate forklift zones
Use lights and horns to alert pedestrians to the presence of a forklift
Install mirrors at intersections to allow drivers and pedestrians to see around corners
Use red zone lights to indicate danger areas around a forklift
Violation: Forklift tip overs 
Forklift tip overs are the leading cause of forklift operator fatalities. They can be caused by:
Improper turning
Unbalanced load
Driving with an elevated load
Excessive speed
Poor surface conditions, like cracks, oil, water, ice
Prevention:
Do not operate a forklift unless trained and certified on that forklift.
Use seatbelts if they are available. Get them if they are not. Required!
Do not jump from an overturning, sit-down type forklift. Stay with the truck, holding on firmly and leaning in the opposite direction of the overturn
Exit from a stand-up type of forklift with rear-entry access by stepping backward if a lateral tip over occurs
Use extreme caution on grades or ramps
On grades, tilt the load back and raise it only as far as needed to clear the road surface
Do not raise or lower the forks while the forklift is moving
Do not handle loads that are heavier than the weight capacity of the forklift
Operate the forklift at a speed that will permit it to be stopped safely
Look toward the travel path and keep a clear view of it
Violation: Fall from a forklift
Warehouses are looking for ways to stack inventory higher. Untrained or irresponsible employees may try to reach those higher levels with a boost from a forklift; however, uneven weight distribution will make the truck wobble or even tip over. This causes the worker to slip and fall, resulting in serious injury or death.
Untrained, irresponsible operators have been known to give others a "ride" on the forks or by hanging onto the side.  Again, this dangerously uneven weight distribution can cause a tip over or fall that could injure both operator and passenger.
Prevention:
Make sure all forklift operators are trained on the equipment they operate.
Do not use, as in NEVER use, a forklift to elevate workers standing on the forks. Use a specially designed elevating platform on the forklift or a MEWP (Mobile Elevated Work Platform).
Elevate a worker on an approved platform only when the vehicle is directly below the work area
When a forklift is used, secure the elevating platform to the lifting carriage or forks of the forklift
Use a restraining means such as rails, chains, or a body belt with a lanyard or a deceleration device for the worker(s) on the platform
Do not drive to another location with the work platform elevated
Do not allow passengers to ride on forklift trucks unless a seat is provided
Violation: Knocking off a pallet or damaging racking
This type of accident may result in injury or death to operator and anyone else in proximity, and will likely cause significant damage to products, fixtures, and equipment. Picking up, moving, and setting down forklift loads properly and safely requires training.
Prevention:
Make sure operators are thoroughly trained and certified.
Do not exceed the forklift's rated lift height. See your machine's operator's manual.
Proceed with caution
Make sure sightlines are clear
Do not handle loads that are heavier than the weight capacity of the forklift. See your machine's operator's manual.
Training is crucial
It's not an accident that operator training is listed as a solution for preventing these types of forklift accidents. Operators who are pressured to get a job done too quickly or who become careless can have disastrous impacts on a company.
Operator training and annual recertification is required by OSHA [see OSHA regulation 1910.178(l)]. But beyond getting in trouble with OSHA, it makes good business sense to take forklift operator training seriously. According to a study by OSHA, training improved operator performance 61%.
Accidents take a toll on a company. There's the trauma of an injury or death, reduced worker morale, and damage to the company's reputation, not to mention fines, insurance claims, lawsuits, and reduced productivity.
Trust TrainMOR to provide effective forklift operator training
When it comes to training operators on forklift and MEWP operation and safety, rely on TrainMOR. Contact us for information on our Mobile, Memorable, and Measurable training courses—available online, in classroom and on-site.
Related Articles:
© https://www.trainmor.com update